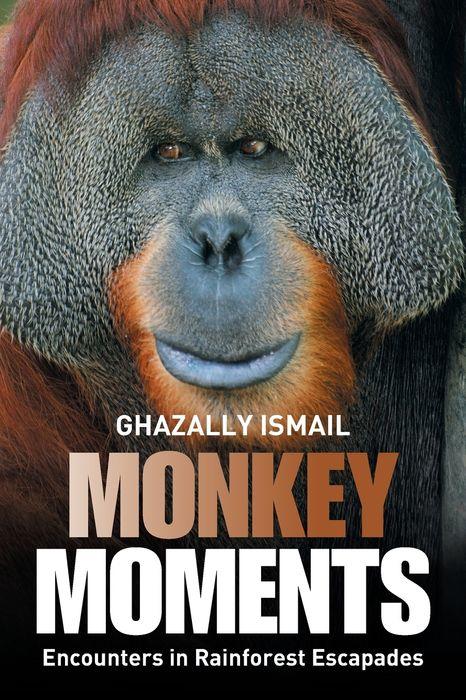 Finally a book I've been working on since Covid first went on a global rampage. Hunkered down at home not free to travel and keep ticking my bucket list of conservation areas and nature destinations, I was driven to writing.
Over the years, my publications were limited to academic writing aimed at providing facts on tropical biodiversity and conservation of rainforests. This time around, it is a semi-autobiographical piece. I've used experiential narratives to tell my many encounters with monkeys and apes over years of gallivanting in the rainforests. This book marks a few firsts for me.
Firstly, I've never written a book based on my personal story. I was hesitant to write in a first person style because I felt like this would be a self-aggrandising venture. Secondly, this publication contains dozens of my own sketches. Of late I've enjoyed doodling and drawing wildlife as a means of relaxing. I might even say it's therapeutic. Thirdly, I've never had a book published by an international US company before which I'm absolutely stoked by this. It means my book finally wouldn't end up just collecting dusts on shelves of bookstores in Malaysia. It is now available on amazon.com and barnesandnoble.com and bookstores worldwide.
Official declaration:
Friends, former colleagues and students who may find some names mentioned in this book that sound similar to theirs' and might object to my using their names without prior consent, hold your horses! Be rest assured they are mere coincidence. I somehow have plucked those names from thin air. Believe that or pigs do fly! Go buy my book and read it. Why? Perhaps the next time you see a monkey or an ape , you'll have more to say than "Awwww doesn't she look cute?" Cheers!
Ghazally Ismail
Class of 1966
---
About the Book
An enthralling book on monkeys and apes of the rainforests. Fascinating facts about several primate species are reflected and appealingly narrated from experiential encounters in the wilderness of Borneo. The author brilliantly takes readers through the evolution of man by selectively highlighting the physical features and behavioural biology of the species discussed in the book. Unprecedented destructions of the rainforests have driven countless animal and plant species to extinction, including monkeys and apes. Immediate and effective conservation of the rainforest habitats remain their last hope. In this book, the author is advocating mindful approaches to saving these endangered species from disappearing forever. Evolutionarily, we need to recognise the unique commonality between us humans and the primates. The connectedness goes beyond the evolution of morphological changes and adaptable features. We also share the genesis of learning behaviour and building of culture. Additionally, the book is delightfully illustrated with drawings by the author himself as he reveals the science of nature through the eyes of a naturalist.
About the Author
Dr Ghazally Ismail received his PhD in Microbiology and Immunology in 1977 from Indiana University School of Medicine, USA. He has served as a professor at various universities in Malaysia and abroad. A prolific writer, he has published widely not only in his field of training but also on nature education and conservation. A consummate naturalist and an ardent environmental advocate, he finds himself in many interesting areas of conservation and research throughout the Asia-Pacific region. Besides writing, Dr Ghazally goes off at a tangent for distraction and travels for fulfilment. He believes the World is a book and those who do not travel read only a page.